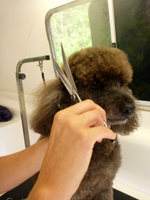 NEW COURSE! Animal Grooming
We are excited to announce the much-requested course all about grooming animals.
Grooming is Booming! With more pet ownership than ever before, there has never been a better time to get into the animal grooming industry. Whether you wish to groom your own pets, start your own business or gain employment as a groomer, this course is a great first step along that path. This course is perfect for you as it:
- Introduces grooming techniques for cats, dogs, small and large animals
- Covers the use of common grooming equipment and tools
- Teaches anatomy, skin and coat health
- Offers advice about how to start a business as a groomer, follow easy practical business tips
- Expands your confidence to work in the animal showing industry – either for work or as a hobby
All you require is a passion for animals and we'll supply you with the knowledge and skills to get your new animal grooming business started! Click here to find out more.
Want to enrol but don't want to start until the New Year? No problem, our courses are self-paced.