FREE COURSE:
See how our courses work! Animal Behaviour – FREE 10 hour course:
Animals are a reflection of their environment, and their behaviour a result of both evolution and environmental influences. Animal behaviour is a fascinating subject, as animals can be sometimes so funny, dazzling, puzzling, or even a reflection of their owner's behaviour! ;
Check out our online special offers. Click here
See us this year at the Green Expo! It will be held at the RNA Showgrounds in Brisbane, on the 20th & 21st March.
2007/8 Handbook now available! Contact us to order a FREE copy, or download it from our website by clicking here.
New Student Magazine

The new Student Magazine allows any ACS student to submit articles on various topics, including Horticulture, Business, Psychology and more. You can be a published author! Log in with the same username and password you use for the Student Room.
Save money when you order more than one book from our bookshop. Order two books, and receive 5% off the total price, or order four books, and receive 15% off the total price!
ACS Bookshop stocks hundreds of quality titles, in many disciplines, from Horticulture to psychology and beyond! To see our titles, including our selection of videos and e-books, visit www.acsbookshop.com. You can redeem this offer only by calling us on +44 1384 4 44718 and placing your order on the phone. Please mention the newsletter offer to get the discount. Offer ends 28 March 2007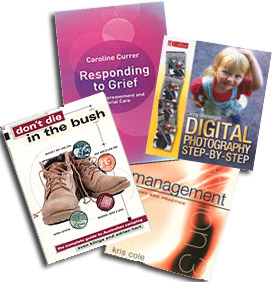 Expanded Online Student Room
Our online student room has been extended!
Students can download from our Webphotos site for FREE, instead of paying the usual $AU25 per photo!
Our Student Magazine is now accessible through the Student Room (see more information below)
To visit the Student Room, click here. Login with the username and password provided by our administration. If you do not have one contact academic@acsedu.co.uk